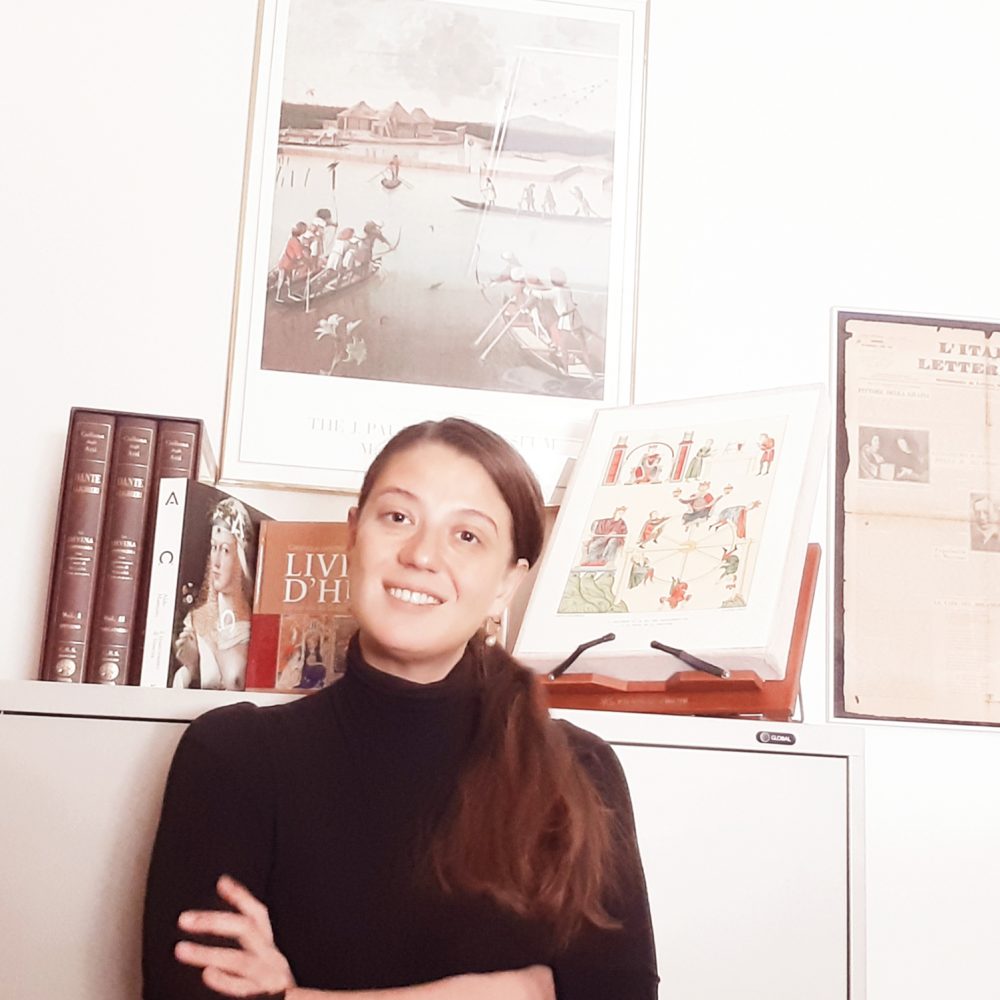 University of Toronto
Elisa Brilli is Professor of Italian Studies at the Department of Italian Studies at the University of Toronto. She is a specialist on Dante studies, with an interest in the interactions between history and literature, medieval exemplary literature, and historiography. Her first book Firenze e il Profeta provides a comprehensive analysis of the depiction of Florence in Dante's works from three perspectives: its dialogue with civic memory, its reshaping of theological paradigms, and its autobiographical implications. She is the chief editor of the critical edition of the Alphabetum Narrationum by Arnold of Liège, a 14th-century collection of 800 exemplary tales.
Research related to commentary
I am working on a new life of Dante, in collaboration with the historian Giuliano Milani. This book jointly explores the issues of biography and autobiography. Indeed, Dante is the first Western vernacular author to attempt his life-writing. He did so under the form of self-commentary. My research intersects the project on "Practices of commentary" from the specific but crucial angle of self-commentary in "eccentric" textual outputs. I envision it as a tool for self-legitimization and stabilization of products which do not belong to pre-given genre categorizations. I also have an interest in visual gloss in manuscripts and textual culture.
Publications related to commentary
E. Brilli, Milani G. Dante: Des Vies Nouvelles, Paris: Fayard, 2021. Read more.
"La «decenne sete», il «gabbo» e il senso della storia." Lectura Dantis Bononiensis, vol. 9 (2020): 99–120.
"Enrico VII, Dante e gli «universaliter omnes Tusci qui pacem desiderant». Destinatari e (co-)mittenti danteschi". In Le lettere di Dante/ Dante's Letters, edited by G. Milani – A. Montefusco, 395–427. Berlin: De Gruyter, 2020. Open access
With L. Tanzini, "Commentare e volgarizzare il De civitate Dei di Agostino a Firenze all'alba dello Scisma." In Agostino, Agostiniani e Agostinismi nel Trecento italiano, edited by J. Bartuschat, E. Brilli, D. Carron, 207–242. Ravenna: Longo, 2018.
"Forum Dante and Biography," coordinated by E. Brilli. In Dante Studies, vol. 136 (2018): 133–231.
Firenze e il profeta. Dante fra teologia e politica, Rome: Carocci, 2012, 384 p. Read more
Other publications
E. Brilli, Firenze e il profeta. Dante fra teologia e politica, Rome: Carocci, 2012, 384 p. Read more
Arnoldus Leodiensis (Arnold de Seraing, Liège), Alphabetum Narrationum, cur. E. Brilli, e schedis C. Ribaucourt, auxilium praestantibus J. Berlioz, M. A. Polo de Beaulieu, Turnhout: Brepols, 2015 (CCCM 160, coll. Exempla medii aevi), CVIII + 752 p. Read more
J. Bartuschat, E. Brilli, D. Carron (eds.),The Dominicans and the Making of Florentine Cultural Identity (13th-14th centuries), Florence: FUP, 2020 (Reti Medievali Ebook, 36). Open access
J. Bartuschat, E. Brilli, D. Carron (eds.), Agostino, Agostiniani e Agostinismi nel Trecento italiano, Ravenna: Longo, 2018 (Memoria del Tempo, 62), 264 p. Read more
E. Brilli, L. Fenelli, G. Wolf (eds.), Images and Words in Exile. Avignon and Italy during the First Half of the 14th Century, Florence: SISMEL, 2015. Read more
---